Guest Speakers: Maurizio Pillitu & James McLeod of FINOS and our FINOS ODP Project, presented on "Exploring the FINOS Maintainers Cheatsheet".
This video was from a live FINOS virtual "Meetup" on September 23rd, 2020. Join us live for future "Meetups" to see real examples of successful collaboration, hear a few top tips from active contributors, and learn about some innovative approaches to maintaining open source projects.
Maurizio and James' Presentation
Maurizio and James' Presentation: Exploring the FINOS Maintainers Cheatsheet - September 23rd, 2020 - FINOS Virtual "Meetup"
At FINOS, we understand the complexities of being an open source project maintainer, so created the
FINOS Maintainers Cheatsheet
to help!
Join
James McLeod
and
Maurizio Pillitu
from the
FINOS Open Developer Platform
, as we explore questions like "How to integrate CI/CD into FINOS projects", "How to publish documentation from FINOS project repos into project websites" and "How to run project meetings from GitHub".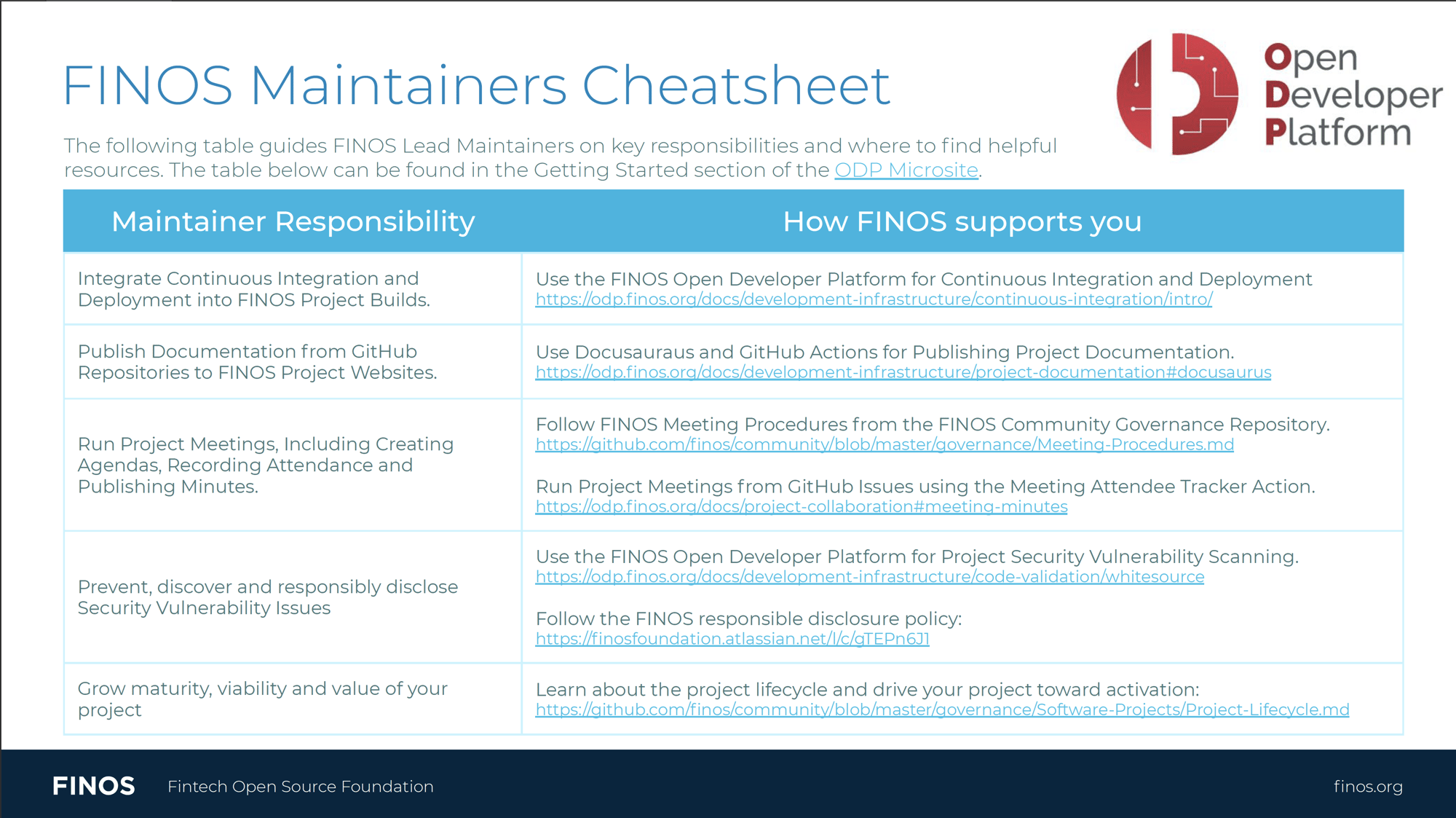 Maurizio's Bio:
15+ years of experience in the ICT industry covering different positions: Devops Director, Release Manager, Project and Team Leader, Sales Engineer, Technical Trainer/Speaker, Software Developer/Architect. Passionate about Application Lifecycle Management, with a strong background on release management and deployment automation. Apache Committer and Open Source fan/advocate, always keen on contributing to Open Source projects.
James' Bio:
James is the Director of Community at FINOS and wholeheartedly believes the transformation of Financial Services can only be fulfilled if Open Source is embraced under the three pillars of Contribution, Consumption and Community.
James has a twenty year career in software engineering having worked for telecommunication startups, the gaming industry, digital streaming platforms and financial services. Prior to joining FINOS James worked at Lloyds Banking Group where he focused on building engineering communities for Lloyds Bank, Halifax, Bank of Scotland, Scottish Widows and other LBG banks. While at Lloyds Banking Group, James also drove the adoption of Inner Source and Open Source partly through the creation of engineering guilds providing in-person and remote educational sessions and large hackathon events. James also spent a number of years consulting on software engineering projects for RBS, NatWest and Barclays.
As a member of the FINOS team, James' ambition is to bring his extensive experience building communities to grow Financial Services into a powerhouse of Open Source. James is a true open source advocate and founded the "React London - Bring Your Own Project" meetup to provide an interactive forum for ReactJS and Javascript developers to come together. In the last two years it has grown to a membership of over 1500 individuals.
You reach James at james@finos.org to find out how you can contribute to the amazing work of the Fintech Open Source Foundation (FINOS).
FINOS Virtual "Meetups"
For a full weekly list of meetups, webinars, and other open source project oriented meetings, please refer to "This Week at FINOS", and sign up for the email that comes out every Monday.
(Email community+subscribe@finos.org to be automatically added to the distribution.)
Interested in FINOS open source projects? Click the link below to see how to get involved in the FINOS Community.