It only takes one developer to change your industry and your customers' expectations. When the world's largest taxi company owns no vehicles, the most popular media owner creates no content, and the most valuable retailer has no inventory—what should we expect for the marketplace as we know it? How does this impact the financial services industry and how can you stay ahead of it?
Join Red Hat at Open Source Strategy Forum, where Matt Hicks, Red Hat SVP of Engineering, Diane Mueller, Red Hat's Director of Community Development for OpenShift, and Peter Monks, Symphony Software Foundation will share five key learnings in their respective sessions: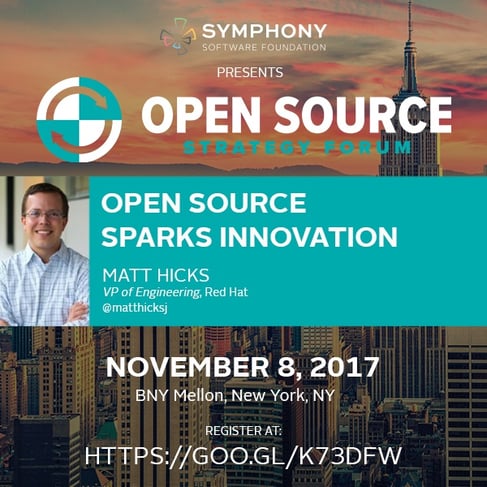 In Open Source Sparks Innovation with Matt Hicks, you will learn:
How open source technology and processes is changing how technology is built.

The impact of open source cloud, mobile, big data, containers and more will have, allowing you to do more with existing staff.

How to adopt an open source culture to help your financial institution become a digital leader.
In Open Source in Action: Building the Open Developer Platform with Diane Mueller and Peter Monks, you will learn:
4. Best practices to expedite developer productivity using the Open Developer Platform (ODP)
5. How ODP provides pipelines for continuous integration and delivery, works with Kubernetes and how Symphony Foundation enabled its member organizations' developer with a hosted cloud native platform.
We look forward to seeing you in New York.