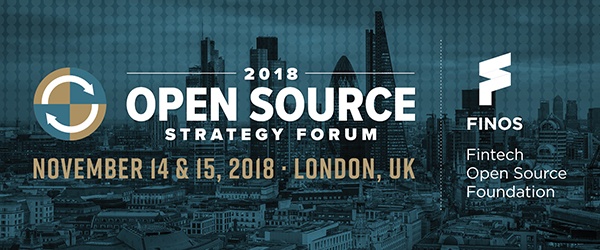 The Fintech Open Source Foundation (FINOS) is excited to open the Open Source Strategy Forum 2018 for registrations and to share our vision for this year's event!

When we launched OSSF last year, it was the first major event dedicated to open source in financial services. Many large firms were exploring for the first time how open source collaboration could fit into their broader technology strategy, so OSSF 2017 focused on the "why" of open source: how not only using but contributing to open source could increase the return on technical investment.

FINOS works with the world's largest financial institutions every day and we've witnessed firsthand the industry's evolution since that first event. Some are adopting a comprehensive open source policy for the first time; others are open sourcing their first projects, at FINOS or elsewhere. So with this year's event, we're going deeper.

We've carefully curated this year's program to deliver practical, focused knowledge about how to build an effective open source strategy for financial technology. The first day's program is divided into three tracks–business value & strategy, policy & process, and tools & technology–and each will progress from fundamental to advanced topics over the course of the day, each session building on the ones that came before.

Each track is designed for a different set of stakeholders in a firm's open source program: the strategy track for technology and business executives and managers; the policy track for legal and compliance personnel, and the tools track for IT and devops. Attendees are encouraged to follow a single track for the whole day (although there's no hall monitor).

The second day will feature panel sessions, trainings, and other sessions that provide attendees the opportunity to explore topics introduced on the first day in a more detailed and interactive setting. On both days, attendees will be treated to breakfast, lunch, and a drinks reception.

Look for more information about the program in the next week or two. We hope to see you there!