Join us for "Big Boost Mondays" in New York City! "Big Boost Mondays" is a Tech & DEI meet-up, helping you find your pathway into technology in the city!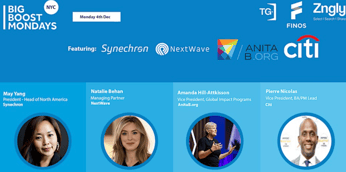 Registration, Networking & Canapés - 17:00
Talks Start - 18:00
Talks Finish - 19:00
Post-event Networking To Close - 19:30
Who is this for?
Find out more how open-source is power innovation in finance

Hear from leading Women in technology

Explore different pathways to a career in technology

Industry professionals, senior stakeholders, allies and sponsors

LGBTQ+, Students, under-represented groups, and the curious

Non-degree holders
About our host on the night:
Synechron is an innovative global consulting firm delivering industry-leading digital solutions to transform and empower businesses.
Joining us on the night:
May Yang - President - Head of North America at Synechron
May is President - Head of North America, managing over 43 offices and 15,000 employees. May also heads the company's Diversity, Equity and Inclusion Initiative named Same Difference and champions the cause of female empowerment, gender diversity, and inclusivity through our various programs.
Natalie Behan - NextWave Consulting – Americas Managing Partner
In addition to 10 years of consulting experience across the financial services sector, Natalie previously co-founded and scaled a specialist Financial Crime Prevention consulting firm across Europe. As Director and Chief of Staff, Natalie was pivotal in scaling the firm to over 150 consultants in three years before selling through MBO and pursuing her MBA at Duke University. During her time at the Fuqua School of Business, she founded and grew the 'Investing in Women' Conference, now in its 3rd year, which brought together female investors and entrepreneurs, working to facilitate more investment into female-run, venture-backed organizations. Natalie was also on the committee for AWIB, the Association of Women in Business.
As Managing Partner of NextWave Americas, Natalie is responsible for overall operations, strategic direction, and the day-to-day management of the business, covering all DEI initiatives and programs.
Amanda Hill-Attkisson - Vice President, Global Impact Programs at AnitaB.org
Amanda Hill-Attkisson currently serves as Vice President, Global Impact Programs at AnitaB.org. As an innovative leader with more than 20 years' experience and expertise of developing strategic initiatives from ground to execution, she oversees the operation and implementation of Programs which includes Global Events, Membership, Workforce Advancement, and Policy & Advocacy program areas to advance the mission of AnitaB.org.
With her background in nonprofit management of social justice entities in the South, including women's empowerment, LGBTQ equality and civic engagement, Amanda is a passionate advocate, skilled organizer, and effective communicator for women and nonbinary/LGBTQ+ leadership initiatives.
Pierre Nicolas - Vice President, BA/PM Lead, Global Spread Products Technology at Citi
Pierre currently manages the Business Analyst / Project Management Pricing and Mortgages team in Citi's Global Spread Products Technology area. He has worked at BNY Mellon's largest business – Asset Servicing. As a relationship manager, Pierre covered some of the firm's top clients in insurance and banking, helping them to leverage the firm's custodial products and services.
All of these talks will finish with a group Q&A with the audience, moderated by the speaker.
Synechron, 11 Times Sq Fl 33, New York