FINOS leadership will be moderating a panel on September 25th, at Finovate Fall, in New York City. The panel will be on Adapting Company Culture in a Revolutionizing Financial World.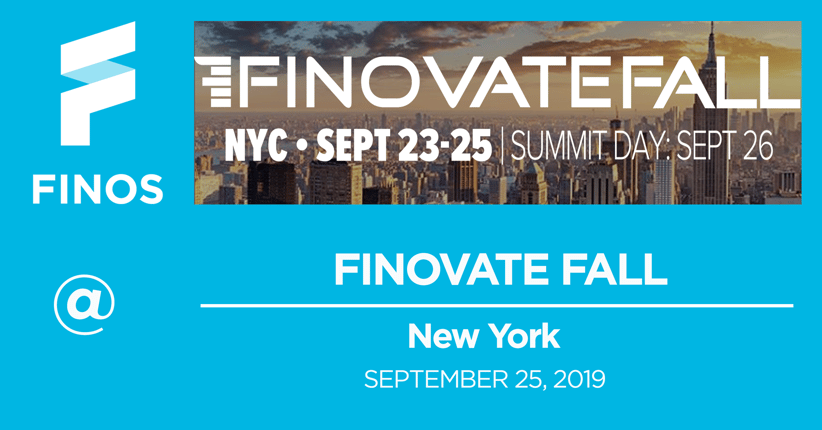 Here's information about the Panel Discussion:
Adapting company culture in a revolutionizing financial world
Working holistically to ensure product delivery comes from a customer experience perspective first and foremost
Becoming more agile and innovative, and bringing customer-centric products to market more quickly
Applying design thinking to internal teams, to work more effectively in a digitized era of finance
Focusing on rapid innovation from start to finish, and helping your organization to automate and become more efficient internally
With incumbents in the transition period to new ways of working, how will you reskill your workforce to avoid damaging company culture?
Digital Finance & Challengers Track
Here's some information about the conference from the promoters:
Finovate has the insight and ideas you need to stay ahead of your competition.
FinovateFall - the flagship New York showcase - debuted in 2007. And it remains the best place to stay informed and find your next big advantage.
Join fintech elites from across the globe in the world's financial capital and keep your competitive edge.
1. Highly-efficient format
Our short-form demo-based format allows you to see a huge number of demos over 2 days. Each presenter has just 7 minutes – with no slides or video allowed. You see live technology with no filler.
2. Stay ahead of the curve
Fintech innovation continues at a blistering pace. Finovate is the best way to find the next big advantage before your competitors. Don't get left behind.
3. Only the best
Our competitive application process means you only see the very best demos. We handpick each company on stage, and they all give you a live demo - so you only see technology that works today.
4. One-on-one connections
Speak to the founders, innovators, directors innovators and more. This isn't your typical trade show. It's your chance to engage directly with the people behind the world's most exciting technology. And Finovate's new networking app suggests the most relevant contacts for you based on your needs.
5. Learn from visionaries
Hear from industry leaders and find out what's coming next. The demos show you the best technology available now, and the speakers provide a unique insight into the future of the industry.
6. Something for everyone
Whether you're looking for a specific solution or just curious to see what's out there, you'll leave Finovate with new ideas and a fresh outlook. Broad vision or deep insight – we've got it all.
Learn more and register for Finovate Fall - NYC 2019.
New York Marriott Marquis
1535 Broadway
New York, NY
10036