From the Organizer:
Let's kick-start 2020 with some amazing ReactJS talks and demos on Tuesday 28th January 2020 at Vrbo (Expedia Group) in London Victoria from 6:30pm onwards.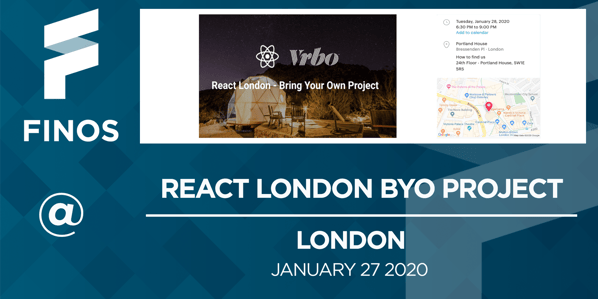 Talks:
Michel Weststrate - Software Engineer, Facebook - Author of MobX, MobX-State-Tree, Immer and a plethora of smaller packages. Some of Michel's sophisticated libraries are used by the largest companies in the world, such as AWS, Microsoft, SAP, Lyft and DICE. Michel has also produced tutorials on egghead.io which can be browsed and watched for free.
Richard Ng - Software Engineering Coach, WhiteHat - Redux-Leaves: 'write once, reduce anywhere'. Redux-Leaves is a library aimed at making Redux simpler to learn and easier to scale. With quick setup, an intuitive API and minimal boilerplate, you can be dispatching actions to update arbitrarily nested state within 30 seconds - all without writing a single reducer or action creator. Follow Richard on Twitter at @richardcrng
Petyo Ivanov - Glue42 Product Manager, Tick42 - An exploration of Progressive Web Apps and their role in delivering Chromium containers to the desktop. More details to come as the Glue42 team make huge strides into 2020.
Kevin Maes - Head of Frontend Engineering, Giant Machines - Kevin joins us live from New York City for a quick tour of redux-websocket, a Giant Machines Redux middleware for managing data over a WebSocket connection, via a demo app that shows the library working in situ.
Would you like to speak at this React London - BYOP?
Get in touch with James on Twitter at @mcleo_d
https://twitter.com/mcleo_d
or Denise @DNevesSantos
https://twitter.com/DNevesSantos
Refreshments
Pizzas, salads, beers and soft drinks will be served
Things to note
• A laptop and desire to explore React is recommended
• Please RSVP to secure a place
• All developer levels are welcome
------------------------------------------------------------------
Meet The Organisers
• James McLeod
https://twitter.com/mcleo_d
• Denise Neves Santos
https://twitter.com/DNevesSantos
------------------------------------------------------------------
Code of conduct:
http://confcodeofconduct.com
(
http://confcodeofconduct.com/
)