In this month's FINOS Community Spotlight, we're thrilled to acknowledge the outstanding participants of the FINOS All Community Call for Q3.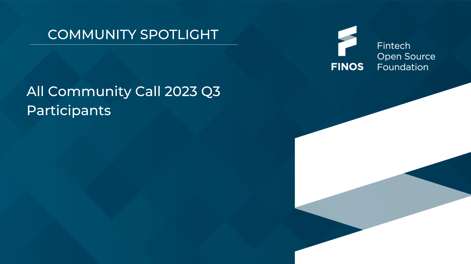 A special thank you goes out to our dedicated FINOS project and SIG leads who provided enlightening updates during the virtual call:
Keith O'Donnell - Managing Director at Feynic Technology Ltd / Zenith SIG co-chair

Brittany Istenes - Open Source Program Office at Fannie Mae / Innersource SIG co-chair

Kris West - Principal Engineer at Interop.io / FDC3 Lead Maintainer

Chris Rayner - Senior Associate – Market Infrastructure and Technology at ISLA / CDM co-chair

Ffion Acland - Vice President at Goldman Sachs and Kabir Rekhi, Managing Director, Head Business Architecture at RBC - Co-leads of the Financial Objects and Regulation Innovation SIGs
Zenith, powered by FINOS, continues its drive to shape the financial future through collaborative endeavors and adaptive standards. Their recent unveiling of the inaugural Primer on Artificial Intelligence sets the stage for industry transformation by simplifying complex terms and delivering executive insights. As this primer evolves on GitHub, expect in-depth explorations on AI chipsets, AI-driven fraud protection, and computer vision. Zenith invites fintech trailblazers to contribute and share feedback, while also welcoming them to bi-weekly Special Interest Group meetings focused on emerging technologies and goal-setting.
The FDC3 project, an open standard designed to seamlessly connect financial desktop applications through a plug-and-play approach, elimantes the need for prior bilateral agreements. Currently, the FDC3 community is engaged in voting for the adoption of FDC3 2.1 until August 25, 2023. Future plans encompass a training program, discussions on web browser integration anti-identity and threat modeling groups, support for various programming languages, and an enhanced governance structure to ensure robust context and intent support.
Version 4.0 of the Common Domain Model (CDM) has arrived, bringing along a host of technical improvements. This release incorporates many technical improvements such as enriched synonym mappings, dependency updates and bug fixes. Perhaps the most exciting update is that now the CDM is available in Python, thanks to a recent contribution from the community. To explore the specifics of these advancements, head over to the CDM GitHub Repository for detailed information. Additionally, find the weekly CDM meetings on the FINOS Community Calendar to join the working groups and start contributing.
The InnerSource SIG, under the guidance of FINOS, cultivates a community of financial services professionals dedicated to implementing and exploring InnerSource practices within their organizations. This strategic initiative addresses the need to streamline efforts in emerging technologies, foster cross-domain knowledge exchange in the FINTECH sector, recognize expertise, and establish successful InnerSource patterns. The revamped Innersource SIG is all set to meet on August 22, 2023, at 10 AM EST, with the aim of enhancing innovation and collaboration while minimizing potential risks.
Collaboration takes center stage as the Regulation Innovation and Financial Objects Special Interest Groups (SIGs) join forces to establish the RegTech Council (RTC). This visionary initiative aims to accelerate global RegTech adoption through open-source projects and collaborative working groups. The RTC addresses the growing demand for RegTech collaboration, driven by the increasing complexities of regulatory transparency. Leveraging the existing array of open source tools for FINOS is gearing up for the RTC launch on November 1st. The SIGs invite the community to join in this crowdsourcing and crowdfunding effort to shape business cases, resource allocation, plans, and milestones for the first half of 2024.
Thank you to everyone who was able to tune in to our 2023 FINOS All Community Call for Q3 and in case you were not able to attend, the recording is now available here.