Hi There - We're putting together a great mix of finance, open source, and fintech talks and speakers for New York City in Fall of 2020 for the Open Source Strategy Forum (OSSF).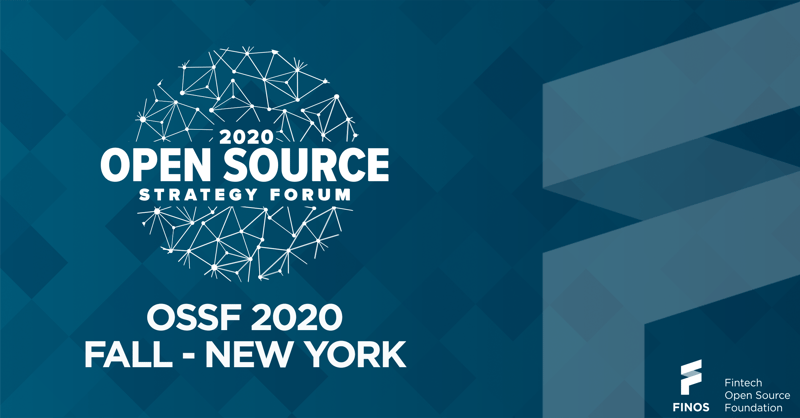 OSSF is the only conference
dedicated to driving collaboration and innovation in financial services through open source software. We bring together experts across financial services, technology and open source to engage our community in stimulating and thought provoking conversations about how to best (and safely) leverage open source software to solve industry challenges.
OSSF 2020 PROGRAM OVERVIEW
This year's agenda will provide practical knowledge and guidance on best practices, tools and technologies; explore how to build a successful open source community; include insight from industries successfully embracing open source and much more. We'll run this in three tracks.
Strategy & Standards - Hear from leaders driving standards, innovation, and collaboration to meet an evolving financial services landscape and changing customer demand, including opportunities in open data, open banking, cloud, regulation and more.
Policy, Process & Tools - Learn how to seamlessly deliver compliant open source software through policies, processes, best practices and technology to manage the full open source software lifecycle from evaluation to consumption to contribution.
Code & Community - A look at the software, languages, frameworks, pioneers and more that are driving innovation, being developed in the open and have the potential to change the financial services industry and its historically "closed" culture.
Last year's schedule, talks, and videos are still live here if you're looking for a preview.
MEMBER REGISTRATION AND SPONSORSHIP OPPORTUNITIES
Registration for OSSF is FREE for FINOS members and their employees. If you belong to our of our FINOS Member institutions, be sure to take advantage of this perk and pass this email along to your colleagues.
SPONSORSHIP OPPORTUNITIES
Sponsorship opportunities are available for members and non-members interested in showing their commitment to open source collaboration at OSSF. Let us know if you'd like a copy of the sponsorship prospectus for more detail.
We can't wait to see you at OSSF 2020! Please reach out to ossf@finos.org if you have any questions about the event or sponsorship opportunities for members and non-members.
Or sign up for updates on OSSF here: